About Us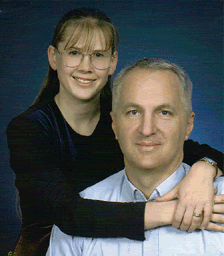 Hello, my name is Andy Ward, and this is my wife, Kristen. Ward Metal is a family business performed out of a shop close to my home. My shop contains all the tools that I need to produce a variety of metal projects, so feel free to allow me to help you with all your metalworking needs.
My wife and I have a variety of interests and hobbies. We are participants in the Society for Creative Anachronism, a medieval reenactment society. In this society, we explore many of the aspects of medieval culture, from arts and sciences to middle ages combat and archery. My interest in medieval armor making spurred my interest in both period and modern metalworking.
Our interests don't just end there, though. We're involved in our local community, and also enjoy many of the great things about living in the country.
Featured Link
Calontir Trim
I must mention Calontir Trim which is run by my best-man and friend "Drix" (aka Steven Boyd.) If you want/need fabric trim for costuming or any other sort of project, please visit his website!